0
I've been using the name EverSky for the game I'm working on for about 11 months now. But I recently realized that the game I'm working on now is NOT the game I set out to make with EverSky, but a smaller part of that whole. It strikes me that actually what I'm aiming for here is a series of games that slowly build up to the game I think of as EverSky. That realization means that I sat down and rethought the name. EverSky is basically a fictional world where I've set the game, that world has different rules and is essentially a pure fantasy world (not orcs and elves fantasy I might add).
Which means I needed a name for the game I'm building. Which at its core is focused on a small scale world and society building mechanic. In order to express that small scale, I thought one thing the inhabitants of the rig (rigs are the structures you live on in this world) would want to name it. It then occurred to me that I needed to name the game after the rig you start with. Which leads us to both the name of the rig and the name of the game. HOPE is fitting because it sets the tone for gameplay, it suggests an uplifting experience, which is what I really want to give players. It also suggests that there is more to come. I'm thinking of this as the first of a continuing series of games, so it seems fitting to start with HOPE and see where things lead.
So there you go, that is the story of how the name changed from EverSky to HOPE. I'm using EverSky:Hope a fair bit right now, because I sometimes use the name EverSky when I'm talking to people
but eventually it will sink in.
I also have the simple tagline: "Build a life, Build a home, Build HOPE".
More to come soon!
.Z.
2
I once went to see a film on a whim called Good Night and Good Luck. It was not something I had planned, but I suddenly got an urge one night to go to the cinema by myself and see whatever was on at the time. As it happens, one of the few films about to show when I turned up was Good Night and Good Luck. It was a black and white film directed by George Clooney. I thought it sounded interesting so I decided to take a risk and see it.
What I saw during that film shook me quite deeply. Not because of the film itself, but because of the thinking I had to do once I left the film. Let me explain a little here, because it is probably hard to imagine if you haven't seen the film. On the surface, the film is about american paranoia in the McCarthy era, when the media was under attack from american politicians for "communism" at the height of the cold war. But in all honesty that isn't what engaged me about the film, so much as a tiny segment of the film somewhere near the end when the main protagonist (a news presenter) is giving a speech to a conference of other news presenters. In this segment, the protagonist Edward R Murrow, played by Davis Stathairn, gives a monologue to the audience about the need to question the things we are told. Luckily, we can see exactly this passage via youtube.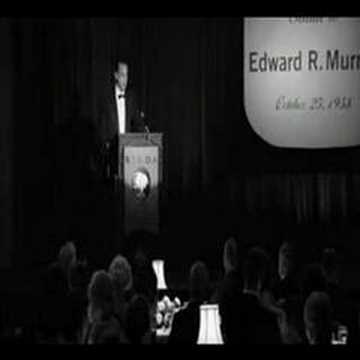 Good Night and Good Luck speech
The thing that really leapt out at me from this speech, that truly floored me, was that here was an entire film devoted to exactly this one concept. That we are responsible for being informed about what we watch. In a sense, I was watching the film unfold on a meta-level, where it was asking us an audience to think about the message of the film. As I was driving home from the film, I was literally breathless at the subtlety of that message and its delivery. I immediately went online and looked at reviews of the film and sure enough, nobody had actually taken that message away. I began to think I was actually reading something into the film that didn't exist outside of my own thoughts on it. But I'm actually still convinced that the message was intentional. That the film was telling me to actually think about how I should think about the film, but in such a subtle way made me think as I was stepping into my car "no game could ever reach that kind of subtlety of message or be that deep".
Which brings me onto the theme of this essay.
If we consider the mechanics of a game (also called ludology) as one form of game viewpoint, and we consider narrative (called narratology) as another viewpoint, is there any other viewpoint from which we can think about games?
I ask this, because it feels to me that most designers tend to think in reductionist terms. You might consider that mechanics are the only important aspect of a game. The logic of which produces games where for the most part we are dealing with reaction and action. Games like tetris, pattern matching games, platform games and action games are examples of this point of view. Mostly designers think in terms of both ludology and narratology by applying a narrative over the top of the mechanics in order to make the mechanics fit into an aesthetic. First person action games rely very strongly on the mechanical feel of combat being good for their popularity, if you don't feel the weight of the weapon or the feedback of the bullet impact on the enemy then all the narrative in the world won't fix it. Yet if we look at the qualities of modern first person shooters, we see that a great deal of effort is being spent on aspects of the narrative. I would argue that this is mostly just form marketing purposes because the narrative elements tend to come in the form of cutscenes and it is generally the cutscenes that are displayed in marketing materials.
I want to propose that there might be another viewpoint to look at in games that remains under-explored for many (mostly commercial) reasons. That being the ideological viewpoint. If we consider mechanics as the interaction space and the narrative as the aethetic space, then perhaps we are missing on the conceptual space which I am terming the ideological viewpoint.
If ideology is the basis for many other forms of human endeavour, why do we not consider it as part of game design? After all, games are often reflections of natural systems and conceptual notions work as well within games as without. If I want to explore the notion of society and it's origins, I can write code to model and simulate the mechanics of a social system reasonably simply. I can even describe the social system in narrative terms reasonably well. But isn't it the ideological viewpoint that is at the heart of the development effort?
When you think about it, surely the ideological viewpoint is present within every game? Surely by the nature of the attitude of the designers, we can argue that the designer has an ideological way of approaching the creation. If you choose to employ mechanics or narrative, you are doing so from a specific point of view and I think that may be an important thing to study and understand. The ideology of the origins of a game idea and our ability to interpret and identify those ideologies. Ultimately it may be that we can only start to express the full range of game creation when we embrace the notion of ideology and begin to form a critical analysis of its patterns.
Of course, one could argue that games do not require an ideology, but it must be clear that even expressing that viewpoint suggests an ideology in itself. Clearly there is an ideological expression in the recent trend for games to be made "on the fly" with user feedback. That we choose to make games that don't require external input as indies suggests that underlying that is an indie ideology. So perhaps we can start to examine what we can gain from actually embracing ideological expressions as part of game designs. I certainly plan to explore some of my own notions of artistic expression and ideology within EverSky because I want to know more about how it can be used to inform my designs. The expression of ideology in pure game design terms might seem reasonably mundane, like the concepts of crafting, resource gathering, trading and such. But ultimately they are not the goal of the design, but are instead the mechanics employed by the design.
Ultimately I can't help feeling that I'll never quite be able to express what I want to create ideologically in the game itself, but I'm definitely going to give it a go.